Get Out the Vote

06:00 PM to 11:00 PM

Pizza Luce Duluth

08:00 PM to 01:00 AM

21+

Music in the Burbs

07:00 PM to 10:00 PM

All Ages | View Details.
Heiruspecs, the 17 year-old live hip-hop institution from St. Paul is back at it again. Fresh off the heels of the April release of their fifth full-length album, Night Falls, the crew is headed back to Pizza Luce Duluth, one of their favorite venues in the country. On November 8, Heiruspecs and Minneapolis based hip-hop artist Sean Anonymous will be playing a 21+ show. Heiruspecs first met Sean Anonymous through freestyles up on stage at Pizza Luce Duluth in the early 2000s and it is an honor to have him joining this show.
Stone Arch Bridge Festival Draws a Crowd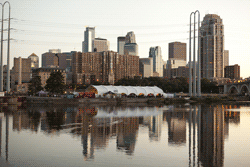 Thanks to everyone who came out to St. Anthony Main for the Stone Arch Bridge Festival.